The company MIDAS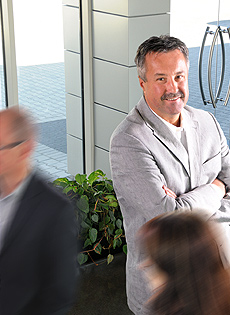 TRADITION
The MIDAS company, including family businesses preceding it, has 20 years of experience in the production and sale of elements for interior decoration.
It was created as a small family-run business, growing and investing in new products and technologies over the years. Today, it is a strong, thriving and successful company both on the Polish and foreign markets.
From the beginning, Marek Wesołowski has been at the top of the company. He is an entrepreneur with passionate and visionary nature, a person that is friendly and cheerful. Ingeniousness, innovative designs and full dedication to the company's operations make him an unquestionable authority for company employees as well as for the whole industry.
MODERN APPROACH
MIDAS is a professionally managed company with Polish capital. Modern machine park as well as the team of specialists working there ensures high quality of products and satisfies the needs of consumers.
INNOVATION
"We do not follow a road, we mark it out."
Guided by the rule to seek modern and functional solutions, MIDAS has designed and implemented many innovative products. More than 40 patents, certificates and protective rights, both Polish and foreign – these are not just words, it is the real potential of the company.
HUMAN CAPITAL
Without our specialists it is hard to imagine the present dimension of the company. MIDAS has a highly qualified and committed personnel. Thanks to the atmosphere of mutual kindliness and friendliness, we create a harmonious team. We can boast with excellent customer service, competent managerial staff as well as the broad group of partners and associates.
FUTURE
We create the future of our company today. We believe that we will face up to many challenges, and will surprise our customers with new products.